Lucy Porter vs. Lemmy
Comedy.co.uk Posted on Thursday, May 23rd, 2013
---
Lucy Porter remarks and reflects upon similarities between her own life and that of Motörhead heavy metal legend Lemmy...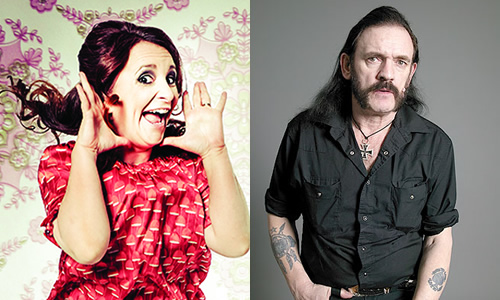 Lucy Porter vs. Lemmy
I've always felt that Ian 'Lemmy' Kilmister, frontman of Motörhead, was something of a kindred spirit. For example: Lemmy was thrown out of Hawkwind for being busted with methamphetamine at the Canadian border after lacing his band mates' food with acid. I too was thrown out of my first band (Cherry Blossom Clinic) for not being able to play a musical instrument or sing.
The similarities don't end there, as I have discovered whilst reading Lemmy's autobiography, White Line Fever, during my current UK tour. It turns out that life on the road is very similar whether you're a mutton-chopped rocker or a clean-shaven comedian (N.B. I don't actually shave). Even the book's title resonated with me, as I go hot and cold just thinking about the miles of white lines in the middle of British motorways and B-roads that I've seen this year…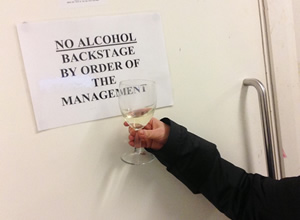 OK, so I'm in my 10-year-old Volvo V-70 Estate, whereas Lemmy is in a tour bus. Also he's playing international rock festivals, whereas I am touring British arts centres and small provincial theatres. Nonetheless, I was struck by the coincidences: The very day I read about Lemmy being escorted from a plane in L.A. because he was drunk on Jack Daniels, I was reprimanded by a stage manager in Bishop's Stortford for a similar offence. (As you'll see from the picture I had nearly finished a whole glass of Pinot Grigio before he caught me!)
Being away from home means temptations are everywhere, and it's easy to overdo it: During a gig to celebrate the Bomber album going silver, Lemmy blacked out because he'd had three blowjobs that afternoon. In Aberystwyth I found out the hard way that having an award-winning cream tea just before you go on stage can make you a bit bilious towards the end of the first half.
I'm sure that neither Lemmy's audience nor mine realise some of the backstage nightmares that go on: Motörhead had legal and technical trouble transporting their props, including a 40 foot replica WWII German Bomber and a silver-coated human skull. In Aldershot I realised the batteries for my one prop – a V-tech Roll and Wiggle Caterpillar – had died! A pretty hair-raising dash to the late-night Spar ensued.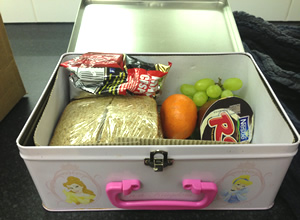 Despite all this drama, life on the road is a lot of fun. I had to laugh when I read Lemmy's account of a Finnish rock festival where he and his bandmates set fire to a caravan and pushed it into a lake. It reminded me of the time I drew a penis in lipstick on the mirror backstage in Folkestone. I was on my own at the time, but I bet if anyone's seen it since, it's given them a chuckle.
It's been interesting reading about Lemmy's life, but it did raise one question: Has the gravel-voiced rocker ever played the Hanger Farm Arts Centre in Totton, and been given his rider in a princess lunchbox (including a Rolo pudding)? No. Therefore I win.
Thank you to Lucy for those words and pictures. Lucy is currently on tour, and will then be performing at the Edinburgh Fringe. For more details visit www.lucyporter.co.uk