My Secret Life
The Independent Posted on Saturday, November 6th, 2010
---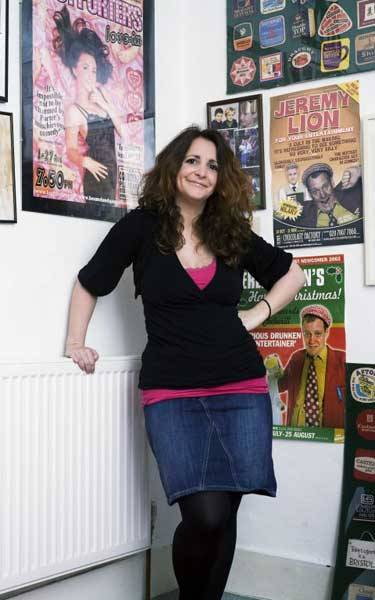 My Secret Life
My parents were …
Maurice and Rita.  They were, and are, the best in the world. I have no complaints about the genes I've inherited, even the ones that make me short and prone to ear infections.
The house/flat I grew up in …
was near Croydon, but not too bad despite that. We should have been rich, because my dad maintains that Paul McCartney came into his shop one day, heard him whistling a tune and nicked it.  That song was "Mull of Kintyre". If Sir Paul wants to send me the royalties, I'll pass them on.
When I was a child I wanted to …
own a dog. I'm still waiting. Maybe I'll get one when I'm an old lady.
If I could change one thing about myself …
I'd have one really long arm so that I could reach the things on the high shelves in the kitchen. I suppose I could just wish I was taller, but a really long arm would be a good talking point, too.
You wouldn't know it but I'm very good at …
Irish dancing. I still have an Irish-dancing dress and it takes very little encouragement for me to put it on when drunk.
You wouldn't know it but I'm no good at …
breastfeeding. I've been doing it for a month now, but every feed involves a mammoth mother-and-daughter wrestling match as I try to get her latched on. I almost always poke her in the eye with my nipple at some point.
At night I dream of …
As a new parent, I dream of more sleep, naturally.  I did have one vivid nightmare recently where I got a tattoo of my ex-boss's face across my chest.
What I see when I look in the mirror …
a dirty mirror reflecting a woman who's too tired to do much housework.
I wish I'd never worn …
leggings. Twice. The Eighties taught me nothing – next thing you know I'll be getting a perm again.
I drive/ride …
the bus. I have a baby sling, which is brilliant.  I just load the daughter into it, grab my Oyster card and we go off and have adventures. Largely these involve going to the supermarket to buy nappies, but we're getting more adventurous. Soon, I hope, we'll be a crime-fighting duo.
My favourite building …
Conway Hall in Red Lion Square, London.  Built in 1929 as the headquarters of the South Place Ethical Society, it hosts amazing lectures, concerts and debates. It's also remarkably reasonable to hire, which is why we had our wedding reception there.
A book that changed me …
The Ragged Trousered Philanthropists by Robert Tressell. My sister Sally gave me a copy when I was 12.  I immediately became a socialist firebrand and left the Girl Guides. Things could have been very different if she had introduced me to Ayn Rand instead.
The person who really makes me laugh …
is my husband. He is a professional comic, but it's the improvised songs about our daughter's wee and poo that crack me up.
The last time I cried …
Yesterday. I think it was a combination of hormones and the utterly heartbreaking charity ads they show on daytime TV.
My five-year plan …
To raise a happy, well-adjusted child; to write an amazing sitcom/novel/screenplay; to have a full social life.  I may have to stop watching daytime TV.
What's the point?
To paraphrase Dodie Smith, I think that good deeds and hot baths help keep the gloom off.  Especially if you drink a nice glass of wine at the same time.
My life in six words …
Easily distracted, never finished what she…
A life in brief
Lucy Porter was born in Croydon in 1973.  A comedian, actor and writer, she is a regular on TV and radio panel shows, as well as touring her stand-up. Lucy will be joined by a panel of wine lovers in aid of global poverty at ActionAid's annual fundraiser, Call My Wine Bluff, at Lincoln's Inn, London WC2 on 18 November (actionaid.org.uk/winebluff).
She lives in London with her husband, comedian Justin Edwards, and their baby daughter